Software for Dental laboratory dedicated to design and modeling. Based on a customizable and easy to use proprietary technology. It features a series of automatic tools able to suggest to the user an optimized result of operations used in the workflow.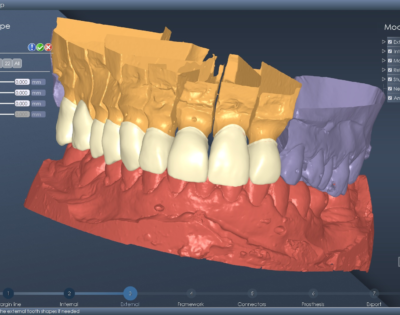 Complete wax-up management
Customizable anatomic and implant libraries
Preset shapes for connectors generation
Automatic margin line detection
Mirror management
Step by step workflow
Wizard interfaceAutosave
Thanks to a dedicated command, it allows direct integration with the CAM SUM3D Dental and, therefore the management of both the CAD and nesting preparation and CAM machining in a single graphic interface. Once the processes through DentalCAD are completed, the user will be able to select the dedicated command managing everything with SUM3D Dental. This will make everything easy and fast, allowing operations through the computing engine and the automatic software of CIMsystem keeping operations in a single environment.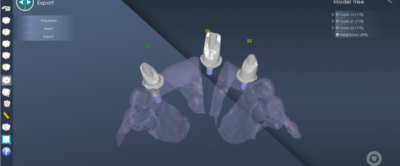 Smile Design Software Integration 
Direct import of Smile Design Software projects (libraries, shapes and full sizes). Guided 3D modeling with lips reference. Workflow for mockup creation.






Virtual Articulator (coming soon)

Partial Framework (coming soon)
Features
New Order Manager with a revisited graphical interface – the position of the various instruments has been modified making the interface more usable and much more dynamic. Further, the possibility of inserting the works into different categories have been added: Fixed Prosthesis and Mobile Prosthetics.

Scan and Import – the segmentation process of the different areas of the model is automatic.

Free management of the modeling phase DentalCAD <> Model Maker – starting from a prepared model or an impression, it is possible to choose the starting phase of the project in total freedom.

Workflow improvements on Prepared Models, Unprepared Models and Impressions.

New "Application Management" tool – allows you to open a section dedicated to the integration of the CAD software with external CAM software as: MillBox; PowerMill; FormLabs.

Improvement of abutment designers

Revision of attachments in a single crown, multiple crowns and bridge workflows

Possibility to change the background color/image

Bug fixing
Watch the following video to get a quick preview of the new features of the software! 
Library List
From the following link, you can check the libraries supported by DentalCAD. 
For more information on the prices of software and the optional modules, write to our sales team at sales-team@egsolutions.com immediately request the updated price list: