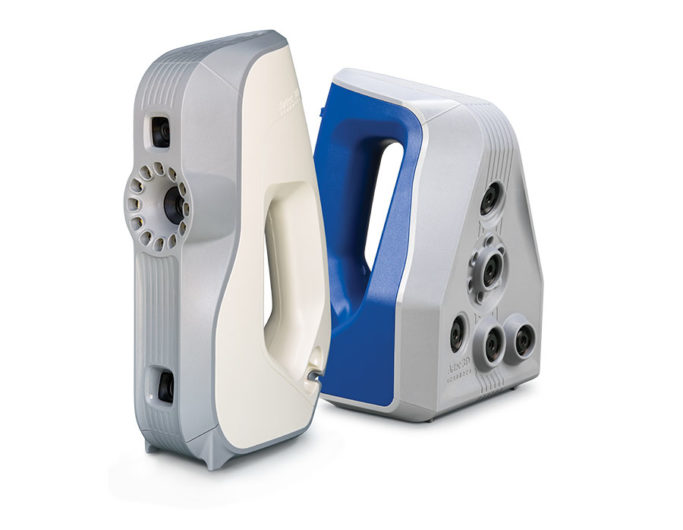 High precision handheld 3D scanners. Artec 3D Scanners are similar to a video camera which captures in 3D. Simply turn the scanner around the object to be recorded. Artec 3D Scanners are used in countless industries for various purposes: automotive, medicine, manufacturing, heritage preservation, computer graphics, design, education, reverse engineering, architecture and quality control are just a few industries where this technology is becoming indispensable.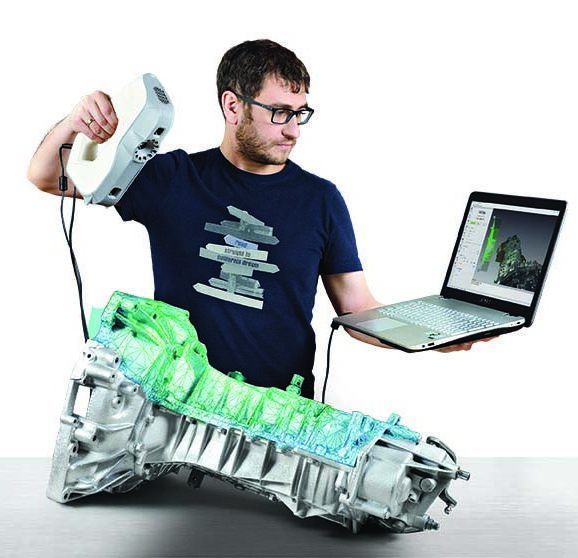 Artec Eva is the ideal choice for making a quick, textured and accurate 3D model of medium sized objects such as a human bust, an alloy wheel, or a motorcycle exhaust system. It scans quickly, in high resolution and vibrant color, which allows for almost unlimited applications. Light, fast and versatile, it is the most popular Artec scanner and a market leader in handheld 3D scanners.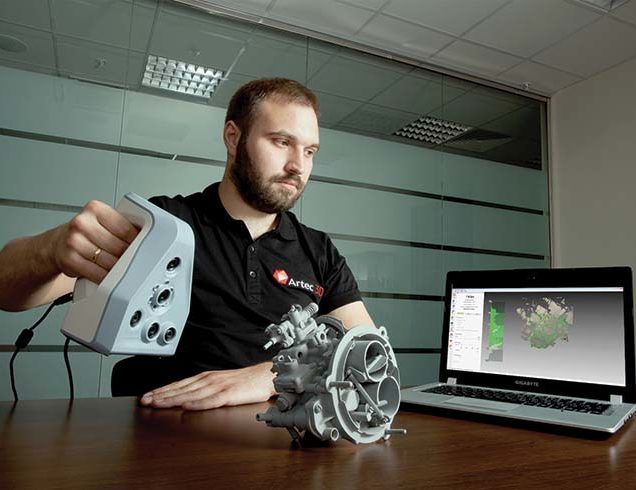 Artec Spider & Space Spider
A new and enhanced precision instrument for CAD users and engineers, Artec Space Spider is perfect for capturing small objects or intricate details of large objects with steadfast accuracy and brilliant color. Ideal for scanning objects such as molding parts, PCBs, keys, coins or even a human ear and export the final 3D model to CAD software. Space Spider offers almost unlimited possibilities in areas such as reverse engineering, quality control, product design and manufacturing.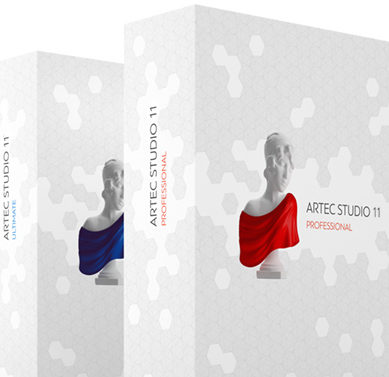 Software for professional 3D scanning and data processing. The new release of Artec Studio brings you a whole new level of automated features, designed with speed and usability in mind. Along with the now streamlined advanced features for maintaining total control over your 3D data, you will also have a full set of new tools to make your workflow easier and faster, without ever compromising on accuracy.
CHECK OUT THE DIFFERENCES BETWEEN SCANNERS
3D accuracy over distance
Linear field of view, HxW @ closest range
Linear field of view, HxW @ furthest range
Angular field of view, HxW
OBJ, PLY, WRL, STL, AOP, ASCII, Disney PTEX, E57, XYZRGB
OBJ, PLY, WRL, STL, AOP, ASCII, Disney PTEX, E57, XYZRGB
1 × USB 2.0, USB 3.0 compatible
40 mln triangles / 1 GB RAM
1 × USB 2.0, USB 3.0 compatible
40 mln triangles / 1 GB RAM
NVIDIA or AMDRecommended: NVIDIA GeForce 400 Series or higher, at least 1 GB of memory
NVIDIA or AMDRecommended: NVIDIA GeForce 400 Series or higher, at least 1 GB of memory
Not supported: Windows XP, Windows Vista, 32-bit OS, Intel graphics cards, AMD FirePro M6100 Fire GL V
Not recommended: Xeon or AMD processors, NVIDIA SLI or AMD CrossFire configurations, NVIDIA Quadro series
EGS is an authorized reseller of Artec 3D products
EGS is an authorized reseller of Artec 3D products. Based in Luxembourg, Artec 3D manufactures handheld and portable 3D scanners since 2007. Know more about EGS and Artec 3D partnership here